Though we just welcomed the New Year, we can't help but turn our thoughts to spring: Here at the farm, the witch hazel and hellebores are beginning to bloom and our first seed catalog arrived in the mail this week. Until things truly thaw out, however, we are keeping  busy both indoors cooking and prepping boxes for the first delivery, and outside with the animals. Get up-to-speed with the latest news from Farm & Larder: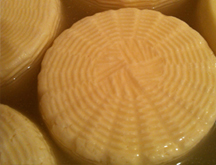 CHEESE PLEASE
This month we have been handcrafting cheese in our very own creamery. We make a variety of fresh and aged cheeses in-house, including the hand-dipped whey ricotta included in your first box. As seen in the photo, we are brining the current batch before it goes into the cave to age; this step adds flavor and begins the all-important process of creating the rind. In a few months, the finished product may just show up in one of your weekly box deliveries.

AN APPLE A DAY
In the orchard, the apples have been harvested and stored away. Originally planted over 60 years ago, our trees produce a great mixture for us to incorporate into our favorite recipes—from the unique, peardrop-flavored Ashmead's Kernel to the sweet Golden Russet or juicy Melrose.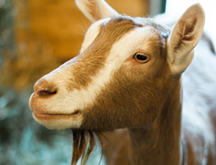 FUZZY FRIENDS
Our resident mole has burrowed his way into the garden and the "girls" have also been keeping toasty thanks to their thick, new winter coats, making it even harder to resist petting them when we stop by the barn.
From everyone here at the farm, both two- and four-legged, we wish you a very happy 2014!