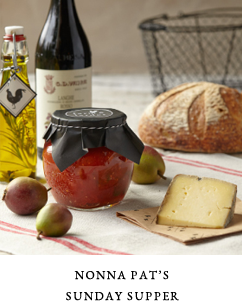 Spring is in swing! Whether you are looking for a unique birthday gift or thoughtful present for a special someone, the time is ripe for gift baskets! Like all Farm & Larder boxes, these thoughtfully-assembled gifts feature the best goods and produce of the season. Below are two examples from our collection that are available to order in 2017 and beyond. Custom gift baskets are also available by special arrangement. Let us know how we can help!
GIFT BASKET:
NONNA PAT'S SUNDAY SUPPER
$145 / $180 *
Our inspiration for this special gift basket came from Nonna Pat, the only daughter of Sicilian-Italian immigrants and born and raised in New York. At age 73, she still keeps the tradition of Sunday suppers alive with friends and family.
Included in this Sunday Supper Basket:
Nonna Pat's Tomato Sauce
We feature her grandmother's recipe: tomatoes, garlic, hand-torn basil, first-press Italian olive oil, sea salt, fresh ground pepper. That's it. No sugar added. Five pounds of tomatoes (and lots of love) go into each jar.
Handmade Linguine
Handmade and hand cut linguine air dried on Italian wooden racks made for us by a local pasta maker.
Dipping Oil
Delicious for dipping an Italian loaf of bread, a blend of virgin olive oil, herbs and spices and aged balsamic.
Olive Oil Cake
Our own recipe: Dry ingredients are carefully measured and ready for you to add eggs, milk, lemon juice and olive oil—then bake! Enjoy with lightly sweetened ricotta, drizzled with thyme-infused honey or topped with seasonal fruit.
Bella Luna Wildflower Honey
From our small apiary in the south pasture where bees take advantage of late summer blossoms at the farm.
Bottle of Wine
A beautiful bottle of wine selected especially for this gift basket.
*$145 for the Sunday Supper Basket featuring the non-perishable items described above ( local delivery and sales tax included)
*$180 for the Sunday Supper Basket with Bread and Cheese
For an additional $35 we can include these fresh items to your gift basket for local delivery: A loaf of Italian Rustica bread, a wedge of Grana-style cheese and spring greens
GIFT BASKET: SUMMER FRUIT PRESERVES WITH CHEESE AND WINE
$75
Enjoy the best of our late summer harvest! Included in this Summer Preserves Basket:
Grana-Style Cheese *
Made in our farmstead creamery, this hard Grana-style cheese is crafted from part-skim cow's milk to allow for longer aging of 24 months or more. The drum-shaped cheese is turned and rubbed with olive oil during aging to create a smooth, golden rind.
Blueberries and Bay
A jar of Northblue blueberries pickled with fresh bay, both grown at Bella Luna Farms.
Apricot Preserves
Made in our English jam pots in small batches with organic Blenheim apricots grown near Lake Chelan.
Fruit and Nut Crostini *
Apricot nut bread thinly sliced and baked in our farm kitchen ovens.
Bottle of Wine
A beautiful bottle of wine selected especially for this gift basket.
*These items are perishable so available for local delivery only or by special arrangement.