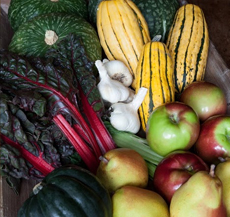 This week's wide variety of fresh produce and provisions make it easy to satisfy the food pyramid in delicious fashion, whether packed into a main dish—say, spinach-stuffed ravioli or our hearty-healthy lentil soup—or enjoyed all on their own. (Be sure to try our roasted Chioggia beets with shallots.)
Here are a few of our favorite recipe ideas to try this week:
Roasted Garlic, Three Ways
The Hungry Mouse blog shares favorite ways to enjoy this essential aromatic ingredient: roasted, in compound butter and as an infused oil.
Garlic Confit
A great way to use up extra garlic, this mellow confit makes an amazing topping for pizza, pasta and crostini.
Roasted Garlic Vinaigrette
Punched up by sherry vinegar and Dijon mustard, this vinaigrette adds a bright, yet rich, finish to salads.
Peas with Spring Onions, Lettuce & Herbs
This side dish from Chez Panisse Vegetables by Alice Waters is bursting with the bright flavors of spring.
Sautéed Kale with Garlic and Vinegar
Tossed with just a hint of garlic and vinegar, this Vitamin K-rich dish is sublime served with pasta. (Hint: This basic method for cooking greens works equally well for all leafy greens!)
Kale & Potato Soup
This rich, traditional Portuguese soup—called caldo verde (green broth)—is given a modern spin with fresh kale.
Braised Red Cabbage
This French dish courtesy of Le Cordon Bleu Complete Cook is an excellent accompaniment to roast pork or game. The trick here is the slow-cooking process, which produces a wonderful texture and result.