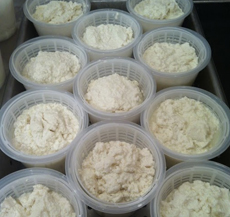 This week, we nod to the fresh, vibrant flavors of the Mediterranean with a produce-packed menu that includes pickled vegetables, specialty olives, capers and baby artichoke hearts, as well as fresh feta cheese. Customize your own baked orzo dish and invite friends and family over to imbibe in our most favorite of traditions: Gathering around the table over good food and wine.
Greek Potatoes with Lemon Vinaigrette
This bright side dish is wonderful served alongside this week's baked orzo. (Hint: Try it topped with our garlic-chive vinaigrette for a flavorful variation.)
Roasted Carrots
This fail-safe recipe from The Barefoot Contessa's Ina Garten will wow time and time again.
Rosemary Roasted Potatoes
Flecked with fragrant rosemary, this potato recipe from Ina Garten can be enjoyed for dinner, and then re-warmed for breakfast the next day!