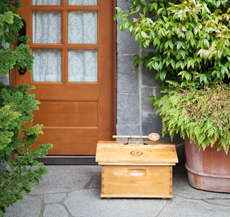 In addition to our own provisions from Bella Luna Farms, we love introducing you to local, regional and national food producers who are also dedicated to using fresh, seasonal ingredients. This week, we have incorporated a few favorite discoveries into your box, from fresh, "little bell" pasta from Seattle's Lagana Foods to Italian sausage straight out of Sedro-Wooley. Enjoy!
Red Wine-Poached Rhubarb
This wine-poached syrup is incredibly versatile: Try it served warmed over a scoop of ice cream, mixed into oatmeal, or drizzled over cheesecake.
Roasted Rhubarb
This rosy-colored roasted dish makes for an excellent addition to almost any dessert, especially served with decadent crème fraîche.
Campanelle Pasta with Sausage & Beans
Flavorful with hints of red pepper flakes, fresh parsley and basil, this dish is a great centerpiece to a supper of salad, bread and pasta
Braised Potatoes with Garlic
The secret to this simple and quick braised recipe is the chicken stock, which reduces down to a syrup, coating the potatoes in a meaty glaze.
Braised Cabbage with Vinegar
This Bon Appetit recipe enhances the flavors of fresh red cabbage with caraway seeds, garlic and chopped onion.
Italian-Style Cabbage Salad
Kissed with parsley, drained capers and garlic, this Italian-style salad makes for an excellent side dish, or main course at lunch.