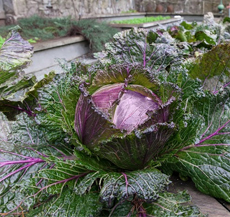 Though the sheer abundance and variety may taper off, what available crops there are during the winter months are actually improving in flavor. A variety of root crops and hearty greens—including kale, chard, Brussel sprouts, potatoes and leeks—actually get sweeter with the first frost. Add to this palette exceptional winter squashes and stored fruits like pears and apples and you have a wealth of options for your winter table.
In addition to a selection of these seasonal winter fruits and vegetables, your box features a rustic roasted squash soup, a healthy multigrain seed loaf and handcrafted ravioli. Here are a few of our recipe ideas for this week:
Marsala-Baked Pears
Drizzled with Marsala wine, this baked dish from the Chez Panisse Fruit cookbook by Alice Waters enhances the natural, mellow sweetness of the pears to produce a rich, yet light, dessert.
Brown Butter Kale
Simple and irresistible, this Tom Douglas recipe combines quality ingredients to bring out the inherently nutty flavor of this protein-rich green.
Cabbage Salad with Apples and Walnuts
With crisp apples and toasted walnuts, this salad—also from the Chez Panisse Fruit cookbook—is perfect as a lively and refreshing first course. Or, make it the main event by adding your favorite soft cheese and a toasted baguette.