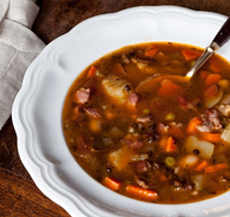 There's nothing quite so gratifying after a long, hard day as a bowl of steaming-hot soup. In that spirit, this week we are sharing our Nonna Pat's chicken noodle soup, which is simmered in a savory broth with farm-fresh vegetables and pasta. Paired with a glass of crisp Chardonnay and an arugula salad topped with golden beets, toasted hazelnuts and flavorful blue cheese, this week's menu will satisfy both body and soul.
Here are a few recipe ideas for additional sides this week:
Roasted Squash Seeds
Pumpkins aren't the only winter squash with delicious seeds to roast: Butternut, Kabocha and many others have seeds worthy of crisping up in a hot oven.
Sautéed Broccolini
Tangy lemon zest, fresh garlic and creamy butter enhance the natural sweet flavor of broccolini in this recipe from Barefoot Contessa's Ina Garten.
Broccolini with Crispy Lemon Crumbs
This recipe courtesy of Top Chef's Gail Simmons adds crunchy, lemon-tinged bread crumbs for a show-stopping finish.
Buttered Savoy Cabbage
Simmered in water and enjoyed with just a touch of butter, fresh cabbage takes center stage in this recipe from Martha Stewart.
Braised Savoy Cabbage
This versatile winter dish from Alice Waters is delightful served by itself or mixed with sliced boiled potatoes or crispy bacon.