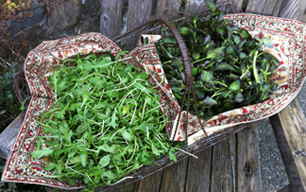 This week, we are kicking off our second 2014 box delivery with all the ingredients for a warm and cozy risotto night: tuck into a classic, earthy wild mushroom risotto paired with golden roasted beets and a crisp Chardonnay, finishing with a hazelnut-topped fruit crisp. Below are a few of our favorite recipes to help make this meal possible.
(Want to see the full list of what's in your box this week so you can plan ahead? Find it here.)
Wild Mushroom Risotto
This recipe is a favorite here at the farm on a cold winter night. Creamy and delicious, it pairs well with steak, chicken, pork or can stand well on its own as the star of your meal – just remember to stir!
Roasted Golden Beets
Our favorite way to cook beets, this method creates tender, delicious beets that are easy to peel and serve either on their own or tossed with vinaigrette and mixed greens.
Roasted Fingerling Potatoes with Pancetta
An easy and delicious way to prepare these tiny potatoes!
Braised Winter Greens
A simple and delicious method to cook these hearty greens. They make a great accompaniment to any main dish!
Fruit Crisp
A quick and easy dessert using apples, pears, or berries. Simply toss the fruit with cornstarch and sugar, then sprinkle with the topping from this week's box.