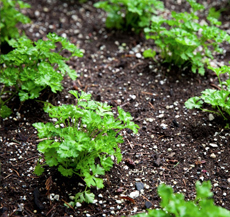 We are almost to February and our ancient witch hazel tree is now fragrant and in full bloom, covered in cheery yellow tassels. Snowdrops along the pathways are also showing color, and the early daffodils are poking their heads up for a peek at the sun as well. In the evenings, we are finishing up orders for seeds, including plans for more bare-root fruit trees in our new orchard, plus seed potatoes and a new variety of purple asparagus to try. (Read more on this fascinating vegetable below.)
We are also readying this week's delivery: in addition to seasonal winter fruits and vegetables, your box will feature a rustic roasted squash soup, a healthy multigrain seed loaf and handcrafted ravioli. (Don't forget: you can plan ahead by viewing the full contents of your box now, plus preview our recommended recipes for the week.)
PREP TIME
In the garden we are taking advantage of this unusual dry spell to add another layer of rich compost to the new garden site we have been prepping for the coming growing season. All of the straw bedding and manure that we clean weekly from the barns is composted and then used to enrich the soil in both the orchard and the vegetable beds. (In this case, we like when @#*& happens!)
NEW CROP
Asparagus is generally grown from roots called crowns that are shipped in damp sawdust while dormant in early spring. It is very important to spare no effort in preparing the soil correctly for asparagus, as the plants will stay productive for up to 20 years. It takes three years for the plants to mature enough to allow us to harvest a spring crop.
WILD LIFE
The wild cottontail rabbits that live here can be spotted again nibbling along the pathways. Soon we will have to close all of the garden gates when we plant our new crop of spring peas.
Funny story: When we planted vegetables last spring, we inadvertently fenced a mama rabbit and her new babies inside the garden! Their snug little burrow was hidden under the straw mulch covering the newly-planted potato patch. We were puzzled for some time why the new cucumbers were nibbled to nothing, but then one day the answer presented itself when we happened to spy one the culprits popping its tiny head above the straw.
Needless to say, we will be a bit more watchful this year when we close the gates and make ready for spring.
Though we just welcomed the New Year, we can't help but turn our thoughts to spring: Here at the farm, the witch hazel and hellebores are beginning to bloom and our first seed catalog arrived in the mail this week. Until things truly thaw out, however, we are keeping  busy both indoors cooking and prepping boxes for the first delivery, and outside with the animals. Get up-to-speed with the latest news from Farm & Larder: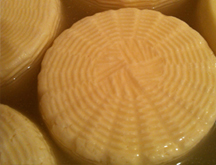 CHEESE PLEASE
This month we have been handcrafting cheese in our very own creamery. We make a variety of fresh and aged cheeses in-house, including the hand-dipped whey ricotta included in your first box. As seen in the photo, we are brining the current batch before it goes into the cave to age; this step adds flavor and begins the all-important process of creating the rind. In a few months, the finished product may just show up in one of your weekly box deliveries.

AN APPLE A DAY
In the orchard, the apples have been harvested and stored away. Originally planted over 60 years ago, our trees produce a great mixture for us to incorporate into our favorite recipes—from the unique, peardrop-flavored Ashmead's Kernel to the sweet Golden Russet or juicy Melrose.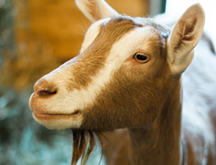 FUZZY FRIENDS
Our resident mole has burrowed his way into the garden and the "girls" have also been keeping toasty thanks to their thick, new winter coats, making it even harder to resist petting them when we stop by the barn.
From everyone here at the farm, both two- and four-legged, we wish you a very happy 2014!